Standing Tall Beyond the Pandemic
CBRE & LVL Wellbeing
Initiated in 2008, World FM Day aims at raising the profile of the facilities management profession on a global scale. The event has succeeded in mobilizing hundreds of individuals, companies, associations, and partners to celebrate their successes and show the world the important contribution facilities management brings to the built environment.
"As people from around the world begin to emerge from their homes and return to the built environment to work, learn, worship, and play, we are witnessing an incredible phenomenon for facilities management. With a renewed importance being placed on human health and safety coupled with building sustainability and resilience, the facility manager today has been thrust into the center of the "Return To" conversation. This year's World FM Day is special to me since celebrating the work of FM has never been so important to all peoples of this world. Happy World FM Day!"

– John Carrillo CFM, IFMA Fellow, Chairman, Global FM
 From navigating through this global crisis to preparing for a new world of work: FM professionals are doing exceptional jobs. CBRE wanted to make the lives of their team a little easier and more connected during the Covid19 pandemic with the help of the LVL Wellbeing online platform.
On May 12, we gathered three of our best instructors to host exclusive live sessions for CBRE in the celebration of World Facilities Management Day. We helped them to move with ease, clear their heads, and find their flow with three office-friendly sessions designed to stretch the body and the mind.
Eunseong hosted a Desk Yoga session for CBRE APAC where she combined movement – a combination of standing and seated stretches to combat the strain and tension from working at your home or office workstation. – with mindfulness and breathwork for added mental health benefits.
Allie's Yoga Desk session for CBRE EMEA combined gentle stretching with deep breaths to loosen up the neck, shoulders, and hips by bringing new blood flow to the muscles to feel more energized – a great way to combat the afternoon slump.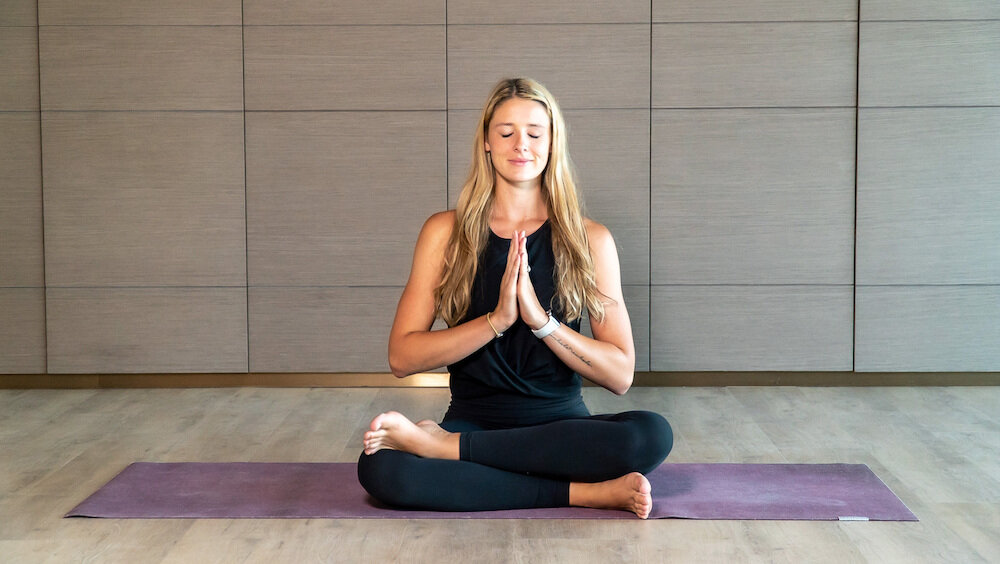 Keifer's Chair Stretch session for CBRE US combined yoga stretches to help participants bend, twist, fold and roll out any pent-up tension in their body.
"We were pleased to collaborate with LVL Wellbeing to hold these online Desk Yoga sessions in celebration of World FM Day. They provided our teams and colleagues around the world with a practical way to clear their minds, de-stress and feel re-energised. Sometimes we feel the need to take a big break and get active, but it can be difficult to find the time to do so with so much going on in our day. These online desk yoga sessions were a great reminder that setting aside even just a few minutes can really help make a difference in recharging our minds and bodies – without needing to go anywhere."

– Theresa Rynard, Division President APAC, GWS | Enterprise, CBRE